Fresno Immigration Lawyer for Family-Based Immigration Visas
The family immigration lawyers at The Escamilla Law Offices in Fresno, CA help individuals and families in the Central Valley find the right family-based visa to bring families together and put them on the path to citizenship. As a experienced immigration lawyer, firm founder and principal attorney Eric Escamilla has the knowledge, skills and determination to make sure you visa application is prepared properly and filed timely. Perhaps no aspect of immigration of law is more satisfying than helping to establish or reunite families, and The Escamilla Law Offices is with you every step of they with expert advice and assistance.
Expand, grow,  or reunite your family with a family-based visa
There are many different ways to obtain lawful permanent residency through a family-based immigrant visa. An individual in the United States can bring over a spouse and unmarried children by filing a Petition for Alien Relative, although the length of the process is typically longer when the sponsoring family member is a lawful permanent resident as opposed to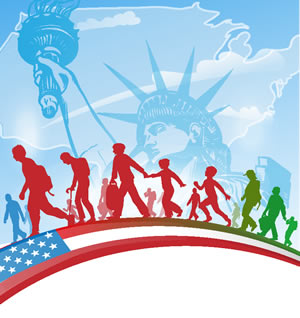 a United States citizen. We also help United States citizens bring over their parents, adult children and siblings and help the new arrivals obtain their green card through adjustment of status or consular processing.
Our comprehensive immigration law practice covers all aspects of family-based immigration matters, including:
In addition, we help non-citizens who have been the victim of domestic violence to obtain lawful permanent residence under the Violence Against Women Act (VAWA) or to obtain legal status through a U-Visa. With our assistance, battered women can "self-petition" without the knowledge of the abusive spouse and find a safe home in the United States. Our family immigration lawyers also look out for the interests of minor children who "age out" before their application is processed by invoking the complex procedures of the Child Status Protection Act (CSPA) where appropriate.
Help for Your Family-Based Immigration from a Family Immigration Lawyer in Fresno, CA
Many aspects of family-based immigration law is incredibly complex and complicated, and wait times for certain family members can be horrendous. Trust your family immigration matter to The Law Offices of Eric Escamilla with years of experience bringing families together through the immigration process. Contact The Law Offices of Eric Escamilla for assistance or call (559) 485-2535